inLab MC XL
The multitalented CAD/CAM milling unit
The inLab MC XL milling and grinding unit opens up the widest possible range of production options for your dental laboratory. You profit from high speed and precision. You can switch from grinding to milling in just a few simple steps. And thanks to the large milling volume and broad spectrum of applications, you will reap substantial economic benefits.
Large range of materials:
Processing of zirconium oxide, resin, silicate ceramics and NP-metal
High-speed milling:
For example, a four-unit zirconium oxide bridge can be completed in just 40 minutes
Large milling capacity: For restorations consisting of up to 12 units and ceramic blocks measuring 85 x 40 x 22 mm
Four milling motors: Flexible selection of milling burs for different materials
Milling and grinding: For high precision regardless of the materialand indication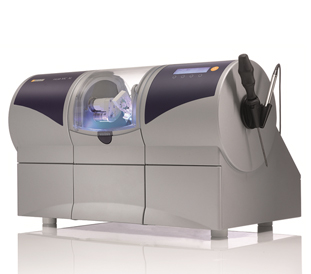 Milling of zirconium oxide and polymers
In addition to grinding, you can also mill zirconium oxide and polymers on the inLab MC XL. You benefit from an enhanced initial fit and a faster production process.
Cost-effective production
The inLab software positions your zirconium oxide restorations optimally in the material block – for efficient use of blocks, attractive unit prices and the best possible machine utilization, e.g. by milling or grinding overnight.
Wet grinding of sintered NPM blocks
"inLab goes metal." With the inLab MC XL and the new inCoris CC sintered metal blocks you can handle a complete spectrum of metal and ceramic materials. The unique wet grinding function rules out any health risks.
inLab Stack – batch machining of zirconium oxide restorations
The built-in inLab Stack software tool automatically positions several restorations within a single ceramic block. This allows you to reduce your unit costs and improve your capacity utilization – e.g. by performing milling operations overnight.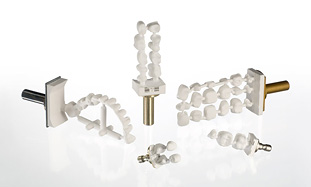 Fabrication of models
With the aid of the inLab MC XL* you can not only mill a broad range of restorations, but also fabricate pin models. This means that your dental lab caters for the entire digital production chain – i.e. you are in a position to import and process digital impressions (Sirona Connect), fabricate models, and create high-quality CAD/CAM restorations. Last but not least, you also have the option of scanning conventional impressions and then milling the models directly.
With the aid of the inLab software you can edit the model data, insert sawcuts, chamfer the preparations and insert pinholes. The model segments are then machined out of a polyurethane block using the inLab MC XL and special-purpose milling burs.
This method is particularly well-suited to the fabrication of partial jaw models for single-tooth restorations, as well as small-sized posterior bridges.
The benefits in brief:
Flexible fabrication of semi-arch and full-arch models (or several small-sized models) out of a single block using the inLab MC XL
Time savings compared with centralized model productiong
Retention of the digital production chain within your dental laboratory