Milling using CEREC
Precise, fast, versatile
All the components of the CEREC system fit together perfectly – from the acquisition of the digital impression to the milling of the final restoration.
The user-friendly CEREC SW 4.2., the fully automated milling process, the clinical benefits of all-ceramic materials, complete treatment in a single session as well as positive feedback from patients – all these factors combine to maximize your job satisfaction. And if you decide to install the milling unit in your reception room, you will create a real talking point and focus of interest. Our three milling units, each with a different focus, make it even easier to find the right solution for your dental practice: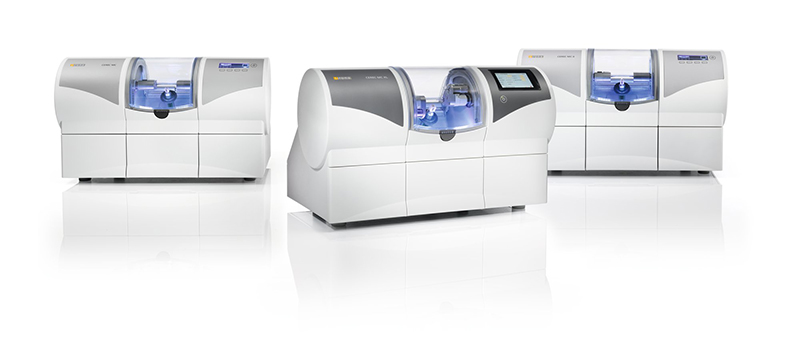 CEREC MC; CEREC MC X; CEREC MC XL Premium
The similarities of the 3 CEREC milling units are that all of them deliver professional, long-lasting results in just a few minutes. They mill restorations with a textbook accuracy of ± 25 μm. The clearly laid-out control panel and colored status lighting ensure optimum ease of use.
In-house milling is a cost-effective option
Did you know that you can mill a crown depending on the milling unit and program in just 8-18.
That means more time for your patients and more profit for your dental practice.
| | | | |
| --- | --- | --- | --- |
| FEATURES | CEREC MC | CEREC MC X | CEREC MC XL Premium |
| Indications | Fully anatomical single-tooth resorations | Complete chairside spectrum | Complete CAD/CAM spectrum |
| Milling accurarcy | +/- 25 µm | +/- 25 µm | +/- 25 µm |
| Maximum block size | 15,5x19x20 mm | 15,5x19x40 mm | 22x40x85 mm |
| CEREC Software 4.2 | ■ | ■ | ■ |
| Fully anatomical single-tooth restorations (feldspar ceramic, glass ceramic, lithium disilicate ceramic, translucent zirconium oxide (TZI), hybrid, mono-sized polmyer blocks) | ■ | ■ | ■ |
| Bridges up to 4 units |   | ■ | ■ |
| Abutments (zirconium oxide, lithium disilicate) |   | ■ | ■ |
| Surgical Guides (CEREC Guides) |   | ■ | ■ |
| inLab Software 4.2 |   | optional | ■ |
| Copings, frameworks, bars, attachments, telescopes, mutilayer, stack milling, nesting |   | optional (up to 40 mm block size) | ■ |
| Sinterable metal (NPM) |   | optional | ■ |
| Milling of zirconium oxide and polymers | TZI mono only | ■ | ■ |
| Frameworks up to 12 units |   | up to 3-4 units | ■ |
| Model Milling (Design 2011 motors necessary) |   |   | ■ |
| Four spindel motors |   |   | ■ |
| Touch display |   |   | ■ |